The final stop in our Southeast Asia tour was the mecca of destinations — Bali! Neither of us have been to Indonesia and the only thing I know about Bali is that it's #instagramworthy and popular with attractive plant-based yogis.
We decided to splurge a wee bit and start our Bali experience at a fancy resort. All of the $1-$5 dinners paid off because we were off to the Kayon Jungle Resort in Ubud! That's right, we were finally walking into a 5-star resort as paying guests and not as budget travelers seeking a buffet breakfast.
I fell asleep in the car during the two hour drive from the airport [typical] so I didn't see much of Bali, but I peeked a lot of jungle aesthetic while my eyes were closing. I awoke to our car rocking back and forth along a windy, narrow road. Stray dogs darted back and forth across the street as we weaved our way up into the hills of Ubud.
For two glorious days we lived like royalty. The resort, designed by a Balinese architect, was absolutely breathtaking. There are three levels of infinity pools, an art gallery, a spa, a nice restaurant and two bars. There is even a home theater being built! Our days were spent lounging, swimming, reading, and occasionally dipping into the various hot tubs attached to the infinity pools. We relaxed hardcore and it was fantastic.
One night we got happy hour drinks at the main bar and gleefully watched scantily clad women boss their boyfriends around directing the perfect picture. Every day we saw people setting up the #blessed insta shot, the ideal bikini pose to best illustrate how life is one big journey, taking selfies to remind you to use the code junglejazzy to get 10% off, sometimes most of the time looking ridiculous in the process. I've watched people do this weird walking move, where the boyfriend films? photographs? them … walking. Just a couple of steps in a general direction. Is it a boomerang? We watched as one poor woman managed to lounge seductively while holding her cocktail in the pool while her knucklehead boyfriend took the worst pictures! Move the towel ya dummy!
As you tell from the image above, Bali is bona fide lush and green. We aren't in monsoon season but it did rain a bit while we were here. When it wasn't baking hot and 100% humidity, the days were overcast with some lower humidity while the evenings were filled with earth shattering thunderstorms. If you think I'm being dramatic, I am. The Bay Area and its non-weather climate has really messed with me. My brain can't compute when the temperature rises a little bit, when it's humid, or even when it's rainy. One second it's clear, the next second it's torrential downpour, just like the movies. The lightening is bright and quick, followed by intense thunder. I'm talking about Zeus opening up the skies with a big 'ole can of whoop ass.
Our Richie Rich lives were short lived though. After two days we moved to our next location. Shoutout to our friends Cait and Dudley who recommended this adorable Airbnb in Ubud! It was tucked away in a garden paradise off the side of a quiet road and was perfect for the two of us. Our host cooked us breakfast every morning and we spent our days lounging around the house and pool. We left occasionally to walk along the quiet road to visit charming cafes, see some temples from afar, and window shop. We were very close, within 500 feet, of the famed Room for Dessert, the dessert restaurant featured on Netflix's Chef's Table. Wow! Cool! So chic! How was — IT WAS CLOSED. Something about a "seasonal closure" (for a dessert place?). I haven't felt so betrayed since we were in Chiang Mai and the famed Flips and Flips doughnut shop was closed for "vacation." I will get my trendy meal before this adventure is over!
As much as we loved our secluded getaways, we needed to get back to civilization at some point. We waved goodbye to our little bungalow and drove a little over an hour south to the lively town of Seminyak. It's a resort town, but really, Bali is a resort country.
It's popular with expats and feels like a super hip Santa Cruz. I've never been to Australia, but this place felt like a mini Australia with its surf culture, beach vibes, and beautiful aesthetics. It could also have been the large number of Australian tourists. Everything in Bali is just…so cool. The shops are full of superb decor, cool clothes, hip restaurants, etc.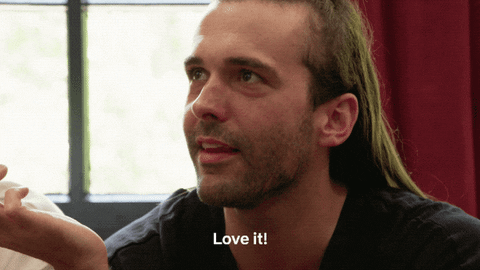 We went to the beach one day and walked in the warm water. Unlike Phuket, this was the real deal and the ocean had intense waves so almost no one was in the water. Seminyak is known for its beaches but I don't think our beach was on the list. Also, a lot of beach clubs and resorts line the beach about 20 yards back, so people were sunbathing and swimming in pools with a view of the ocean, not actually in the ocean itself. Nonetheless, it was beautiful and relaxing.
No post is complete without food of course and we ate pretty well in Bali. Despite being full of tourists, we managed to eat at affordable restaurants. We ate a lot of nasi goreng (Indonesian fried rice), tried black rice pudding, fresh juices and some plant-based food. [BTW side note: I've recently gone down the internet rabbit hole of vegan YouTube drama if anyone is interested in drama/conspiracy theories] Every restaurant was right out of Pinterest with awesome decor, chic lighting, stunning architecture, and of course, delicious food. As I said earlier, everything in Bali is just so cool!
vegan tacos with tofu cheese!

nasi goreng (Mark) and smashed avocado with sweet potatoes

fancy schwarma
If you are reading this post and are under the firm belief that you can never or will never go to Bali, I urge you to change your mindset. Depending on your point of origin, it can be difficult (pricey and lengthy) to get to Bali, but once you are here, it's really not that expensive. Mark found a great deal for the Kayon Resort via TripAdvisor and since they are still very new (built summer of 2018), I'm sure they will continue to have deals. If you really have the dough, there are villas available with private pools! Our Airbnb was also affordable and we found that through word of mouth. Bali takes research, especially for lodging, but it's totally possible to find something affordable and with a pool. I don't recommend picking only from the coolest pictures from Instagram because often those are very expensive and also sponsored (I'm looking at you private treehouse). Put Bali on your bucket list, come here and relax, eat delicious healthy food, maybe do yoga, visit a volcano, and soak in the sun!