As I'm sure you've come to discover, I traveled all over the world when I was growing up (thanks Mom and Dad!!). We went to Venice many years ago, during Venice Carnival, and I remember absolutely loving it! This time around, I wanted Mark to experience the same feelings, so we boarded a train from Naples to Venice.
Venice is hard to describe to someone who hasn't been there. Imagine a city in Italy that sits entirely on small islands on a lagoon. There are no cars, only boats, and you crisscross the city via the 400 some odd bridges placed strategically throughout. Huh?
Exactly.
We purchased tickets for the #2 and headed out to find the stop. Mark's face when he stepped out of the train station was worth the long journey. His jaw dropped at the sight of the boat taxis, boat busses (that's the #2 we were supposed to catch), and even a boat ambulance! He stopped in his tracks scanning the horizon, taking it all in, positively slack-jawed at the sights. The ride was short and surprisingly smooth given all the traffic on the waters. Ten minutes after disembarking and we arrived at our bed and breakfast! Not an Airbnb, a real, old-fashioned bed and breakfast.
Our host, Claudette, was an absolute delight. She unnecessarily apologized profusely for her English (mamma mia, it was late, her English gets worse as the day goes on), and continued to tell us all about Venice. She highlighted some top sights, some popular canal routes, and some spots for great food and drinks. Her main sticking point: Get lost.
So we did. After an evening indulging in some gnocchi and cuttlefish spaghetti, we set out to lose our way in Venice. We headed out toward the water, crossed a bridge when we saw one, turned a corner when we hit a fork in the road, and frequently stopped to watch the world pass us by.
Honestly, it's going to be very difficult to return to regular life after this.
We sat for awhile on the steps of the giant Basilica di Santa Maria della Salute, enjoying the shade and watching tourists attempting selfies and narrowly avoiding falling into the canal. A couple walked by holding large, cheesy slices of pizza. All eyes were on the pizza as the couple strolled on by, and as we all imagined how delicious that pizza slice would be — time slowed and swoop! A seagull swooped down in attack mode, and aimed right for the slice! Bold move, bird, bold move.
We continued on our way, amazed at the deft of the seagull, and found a small hole-in-the-wall slices-to-go place. There was just enough space inside to order a slice and that's it, so we moved down the street to the Ponte di Rialto bridge to eat while people watching. The slice was so big that I needed two hands to eat it, so I put our soda down. By the time I looked back up, the seagull was back! I swear it was the same jackass from before—he swooped out of nowhere and tried to steal my prosciutto! Bold move, bird, bold move!

We continued on our no-agenda agenda and found more alleyways to get lost in. My favorite activity of the day was watching the hundreds of tourists line up for a gondola ride. If you've never been to Vegas, or even better never been to Venice, gondolas are the thing to do. It only sets you back €80 (for 20 minutes) for a daytime ride or €100 for an evening trip! Regardless of the price and the lines, the gondoliers were never out of work. (Also, unrelated side note, it must be an employee requirement to be good looking because many of these gondoliers were real, real handsome.)
Speaking of handsome, ever since Mark broke his shaver in Luang Prabang, he's had to enter each new city on the hunt for a skilled barber. Sometimes it's a success (here's lookin' at you, Istanbul!) and sometimes it's a miserable failure (you suck, Ireland!). I happened to notice a barbershop on one of our walks and it just so happened to be the only female barber in Venice! She did a great job and afterward handed Mark a printout of her story:
This was her father's shop, and as a young girl she spent every possible opportunity right here with him. When she was eight, he let her do the shampooing, and the customers would get drenched in water (she notes that all of them are still fond of her despite this). As a kid, she tried her first haircut on her father, and he returned home beyond pale with fear. Fast forward to today, she's been working there for 25 years and is Venice's last owner of a barber license; "I never thought of opening a women's hair salon. I can't bear gossip and the chit-chat that women have."
As you may have picked up, we like to check out more obscure, less popular areas of cities we visit. Did you know that Venice had a Jewish Quarter? You do now! We also couldn't pass up a guided tour of the three synagogues in the Quarter. Though the tour wasn't nearly as interesting nor informative as the one in Budapest, there were however some notable takeaways:

The term ghetto originated in Venice, as the Jews were sequestered near the foundry, then called the 'ghèto.'
Jews were generally welcomed and accepted here, even during the Spanish Inquisition. They had free reign to roam about during the day, but were obligated to remain behind gates come nightfall, and were not allowed out during Christian holidays. (Unfortunately, this is history's version of "the Jews had it made!")
With its many canals, Venice was a city of merchants. Many of the Jews were merchants, and therefore wealthy. "Not wealthy because they were Jewish, but wealthy because they were merchants" the guide made it a point to clarify. (Oh good, whew!)
Entering the synagogue was the only place in Venice that required security guards and metal detectors. (It was a sobering reality, but no different from the world over.)
After our history lesson, we headed back towards our b&b and stumbled upon a fresh fish market. I've seen a lot of markets on this trip and this was by far some of the freshest catch I've seen yet. Freshly caught fish of all types — octopus, cuttlefish, unknown animals because the vendors didn't speak English, and snails so fresh they were constantly jailbreaking from their bin (ever so slooowwwwly). As we walked out of the market, swoop, a seagull landed on a cutting board stand directly in front of us! He stared us down, his eyes saying, "remember me?", then grabbed a fish carcass, tilted his head back and swallowed it whole. Then he looked back at us, stared right into our very souls and mouthed "come at me bro," then shat on the cutting board! Bold move, bird, BOLD MOVE!
Since Spain, Mark and I have settled into an enjoyable schedule of sleeping in until 10 am or so, going at our own pace throughout the day, and finally starting to wind down after midnight. If you are wondering what Europe is like first thing in the morning, we are the wrong people to ask. These cities at night though, are quite beautiful. Oddly yet amazingly enough, the streets of Venice tend to be much quieter at night, I think mainly because the cruise crowds head back to their ships. Their loss was our gain, as cooler temperatures allowed us to enjoy the city from a whole new perspective.
Not pictured: the rat we saw scurrying out of a restaurant and frantically try to find it's way back into the sewers.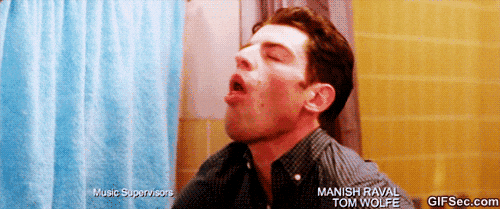 One place that Claudette kept mentioning was a popular rooftop terrace atop a high-end shopping center. It's famous for its view, as it's one of the only spots in Venice high enough to grant such an unobstructed viewpoint. It's also famous for its extensive queues of tourists. What used to be an open balcony now requires an advanced reservation, a strict time limit, and multiple door guards. It took three attempts to gather all this information, but we finally managed to secure a morning appointment right before our train departed for Bologna. Finally we got our 15 precious minutes taking in all of Venice.
The downside of affordable travel and social media is that illustrious cities are now overrun with tourists. But the upside of affordable travel and social media is that you get to see utterly magnificent places and tell all your virtual friends about it. Yes, Venice is insanely crowded and Yes, Venice is also marvelous. Go, go, go … before it sinks.
P.S. We also went to Bologna but it doesn't warrant an extensive post because honestly, we hardly left the apartment. We rented a large, open-layout apartment, and totally lazed around, watching movies and reading. Always Be My Maybe is adorable, do yourself a favor and watch it immediately. We left the house for Bologna-famous food like tortellini in broth and tagliatelle bolognese, and to walk the Italian streets at night (there happened to be an outdoor film festival and everybody came out for it). One highlight for me was visiting the Anatomical Theatre of the Archiginnasio. I'll let you use your imagination what went down there.